RING US
9624 7766
Mon to Fri
8.30am to 5.30pm
MOVING HOME
We do all kinds of furniture removals, and we have all kinds of trucks. We have little trucks for little moves, through to the biggest semi-trailers for longer distances.
We can move single items Interstate or whole households. We have moved an entire hospital once. We even moved a homeless man's meagre possessions from a park bench (firmly but politely and with police and park rangers in attendance), but that's a story for another day.
LOCAL FURNITURE REMOVALS
Our removalists can be hired on an hourly rate or a quoted price. We are "mid-range" in price, but reliable and good at what we do.
COUNTRY FURNITURE REMOVALS
"I've been everywhere man, I've been everywhere. I been to Tullamore, Seymour, Lismore, Mooloolaba, Nambour, Maroochydore, Kilmore, Murwillumbah, Birdsville, Emmaville,
Wallaville, Cunnamulla, Condamine, Strathpine, Proserpine, Ulladulla...."
And that was just last week! No seriously, I don't think we've ever been to Emmaville (or Wallaville for that matter) but we do get around.
WITH THANKS TO LUCKY STARR FOR THE MUSIC.
YOU CAN PRACTICALLY HEAR THE BANJOS PLAYIN'
INTERSTATE FURNITURE REMOVALS
Big moves: We come to your home with a dedicated truck. We load your furniture and travel to your new home interstate, meeting the schedule that you set. A bit dearer, but sometimes it's the only way to do it.
Small moves: Using the Safe & Clever™ Modular system, we load your goods into their own individual module - no one else's goods can get mixed up with yours. We can transport your module interstate to Melbourne, Brisbane or Adelaide. You can have up to 7 days free storage in the module if you need time to travel there or are looking for a new home. This is an affordable, efficient way to move small jobs interstate on a reliable and predictable scheduled service. No waiting around for backloaders who don't turn up!
Furniture Storage
Click on the link for a full run down on our furniture storage system.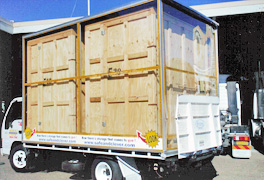 Our unique, award-winning clear sided module truck, nicknamed the 'Popemobile'.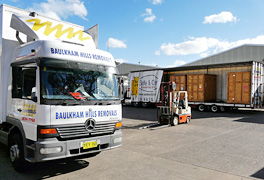 Modules being transferred from local collection truck onto interstate linehaul trailer (shown in distance).