RING US
9624 7766
Mon to Fri
8.30am to 5.30pm
STORAGE
We use the Safe & Clever™ Furniture Storage system which is acknowledged as one of the best storage methods in the world.
Our storage is low cost because we have a very large storage operation that we have invested in for 20 years, but just because it's cheap doesn't mean it's not good. Our storage service offers the best value for money there is. RING US and find out how to save $$$ money on your storage.
We love storage, it's what we do best...
We are REALLY GOOD at storing furniture!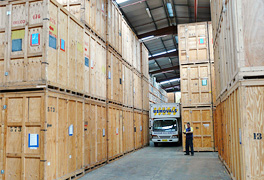 Our storage facility at Baulkham Hills.

Loading Safe & Clever™ modules at our storage facility.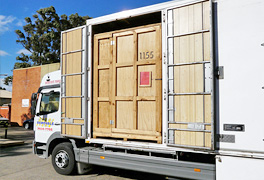 We load directly into the Safe & Clever™ module at your home using ramps and platforms (not shown here).
We have big trucks like this (which carry four modules) and small trucks for difficult locations that carry only one or two modules.
THE CHICKEN SHED STORY
Think all storage is the same? There was a removalist in the Hills District some years ago (we'll just call him Bob) and Bob was always half our price for storage and we could never work out how he did it, I mean we're pretty sharp with our prices and we couldn't get near Bob's prices. Then one day we ran a job ad for a driver, and one of Bob's ex employees came to apply. At the interview he told us about Bob's "storage facility" ...a disused chicken shed on a still active chicken farm. Seems Bob smacked a few pallets down on the dirt and that was the floor, and away he went filling it up with people's furniture and possessions. You can imagine the results! Moral of the story is... pay peanuts and you'll get monkeys (or in this case chickens) and if in doubt go and INSPECT the facility yourself to satisfy yourself about its suitability.